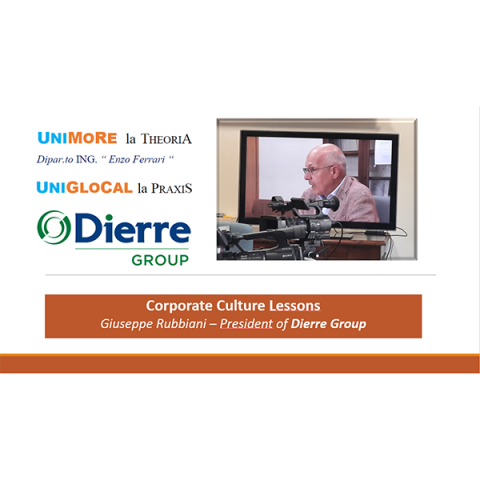 "Production environments increasingly need safety, but also design and quality, to make the workplace safe and comfortable. Dierre Group has been responding to this need since 1997". This was stated by Giuseppe Rubbiani, President of the Group, speaking in recent days at "Glo-cal University - Local, Regional, Global university", the information project promoted by the Universities of Bologna, Modena and Reggio Emilia, Ferrara, Parma and Piacenza and finalized to give value to some of the main entrepreneurial success stories of the regional territory. "The 5 stars" is the slogan of the academic initiative, in which each of the stars represents the Emilia-Romagna universities to whose provincial areas the companies refer; and some companies have been called upon, through their top figures, to propose real lessons in "business culture", also from a practical point of view.
Rubbiani, awarded the title of Knight of Merit of the Republic in 2021, was involved for UniMoRe district. In his speech he first of all retraced the history of Dierre, founded with the aim of "producing protections and safety systems for automatic machines especially in the context of the ceramic district - he underlined -. We soon evolved from a technical point of view and understood that our products could find application in numerous industrial sectors, for example in packaging and food. We have thus acquired several local players and their respective know-how, also in reference to the territory in which they operated - added Rubbiani -, structuring ourselves into a group capable of offering a diversified offer. Furthermore, the support of two investment funds was important, which has followed us on our growth path since 2016".
Dierre Group today is divided into 13 factories in Italy, some of which are "vertical" because they are dedicated to the production of specific products (conveyor belts, linear systems, perimeter protections, machine edge protections, soundproofing plants, aluminum profiles and accessories) with the objective of making the offer increasingly specialized and qualified; other plants focus, however, on the territories in which they are located (Lombardy, Veneto, Tuscany, Emilia-Romagna). And the headquarters is in Fiorano Modenese, which centralizes numerous group functions, to serve all the plants across the board: from the research and development division to quality control via the commercial office.
Furthermore, the Group has been drafting the Sustainability Report since 2019: a tool in which, with a view to transparency and sharing, the Group's ethical and social responsibility policy is put on paper. A document that also ensures commitment to the environment: "We know we need to be independent in terms of energy – concluded Rubbiani – and therefore three of our factories have already been equipped with photovoltaic systems; and soon a fourth will be added."