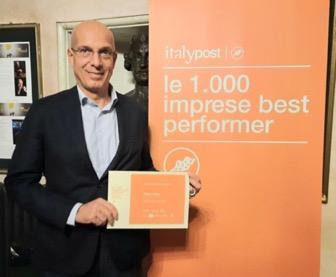 The Dierre Group President Giuseppe Rubbiani received the 1,000 Best Performer Enterprise Award, an initiative promoted by ItalyPost, a Community Corporation aimed at promoting the growth of business and work culture.
The event, held at the Municipal Theatre of Carpi on Monday 6 December 2021, wanted to celebrate the main best companies in the area that stand out in the national economic panorama for entrepreneurial intelligence and foresight: it is an explicit recognition to entrepreneurs who create wealth and work with their activities in a concrete and effective way.
The selection of the companies took place on the basis of the 2017-2020 financial statements and the evaluation of all the financial and structural organization parameters that contribute to establishing the solidity of the company itself. "It's with pleasure that I withdraw this award - commented Giuseppe Rubbiani - in recognition of the commitment and value that our Group represents on the market".