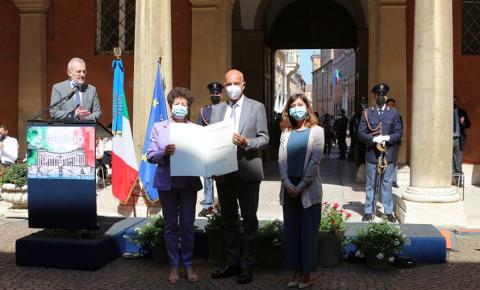 On 2 June 2021 the President of Dierre Group Mr. Giuseppe Rubbiani has received the title of Cavaliere al Merito of the Italian Republic.
A prestigious institutional honor that recognizes and rewards the highest Italian excellence for "having acquired merit towards the Nation" and having distinguished themselves for merit in the productive and economic market.
Giuseppe Rubbiani was born in Formigine (Modena) on 23/07/1963 and founded Dierre Company in 1997, specializing in the field of industrial safety solutions and worker protection.
The entrepreneurial dream of Giuseppe Rubbiani today has become Dierre Group, with 11 production factories in the most industrialized areas of Italy and with a total of over 300 employees: the concrete realization of a continuously growing project that has allowed him to reach the goal of such an authoritative award by the President of the Italian Republic Sergio Mattarella.
This institutional honor rewards the efforts and sacrifices of many years of intense work and devotion, testifying the far-sightedness of a project which, day by day, confirms its reliability and continues its progressive expansion.
Congratulations Cav. Giuseppe Rubbiani!