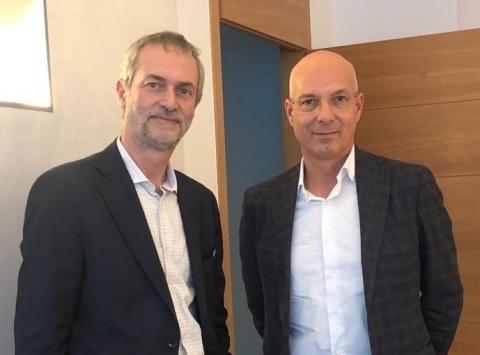 Dierre Group, a leading company in the production of safety protections, handling systems and industrial robotics that can be applied to the most varied production sectors: from Food to Ceramic, from Automotive to Pharmaceutical, from Nautical to Electronic, continues its growth.
Through a network of 10 manufacturing companies throughout Italy, it offers customized and integrated solutions for efficient and safe industrial applications relating to Profiles, Perimeter and Modular Protections, Linear Guides, Conveyor Lines, Cartesian and Anthropomorphic Robots, Industrial Soundproofing, Protection Systems and Operator Workstations.
Today the Chairman and founder of the Dierre Group, Giuseppe Rubbiani, introduces the new CEO Stefano Socci, who will support him in guiding the Group towards the achievement of important industrial development goals in an increasingly selective and competitive market. Having graduated in Mechanical Engineering and with a Master in Business Administration at Bocconi, Stefano Socci has gained many years of experience as CEO and General Manager of important multinational companies such as Faber SpA, Sematic and Nicotra Gebhardt, strengthening dedicated global organization processes and operational development strategies.
The Dierre Group once again focuses on innovation, confirming itself as a versatile and reliable partner for the end customer.