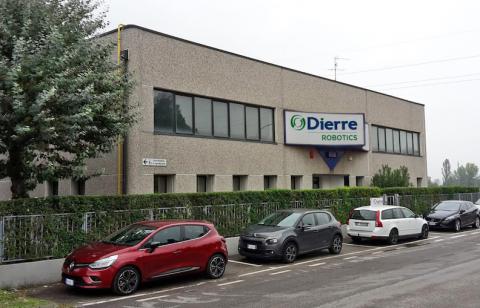 As of November 1st 2019 the transfer of the production technologies of Dierre Robotics, a Dierre Group company specialized in the design and production of industrial robots for critical and highly specialized applications, to the new facility in Via Dell'Industria 67, Cavriago (Reggio Emilia), will have been completed. The new facility, which consists of a sales department, engineering department, workshops, laboratory and a production department, covers an area of 1100 square metres.
Ample space is provided in the production area for the assembly of robotic automation systems, conveyor systems and OEM equipment. Dierre Robotics production technology is part of the technological Industry 4.0 framework aimed at improving working conditions and the production quality of installations. Sergio Zambonini, President of Dierre Robotics says, "By opening this new facility, we intend to strengthen our commitment to the continuous development of technological solutions of excellence even further in order to offer professionalism in a sector where technology and research are necessary for the development of production processes."
Dierre Robotics will use all its proprietary know-how to offer its customers personalized robotised solutions that can be used in various industrial sectors as well as intelligent applications for repetitive task automation systems Giuseppe Rubbiani – President of Gruppo Dierre says, "I am very pleased with this new industrial facility that will not only allow Dierre Robotics to increase employment in the area but also to penetrate the market even further with quality products by continuously investing in research and development". Dierre Group is made up of 10 companies located in the most industrialized regions of Italy – Emilia Romagna, Veneto, Lombardy, Tuscany.
The positive synergy between its various facilities allows it to bring innovation, technology and creativity to the design and production of all its products, which are entirely "Made in Italy", both for the Italian and for the international target markets.