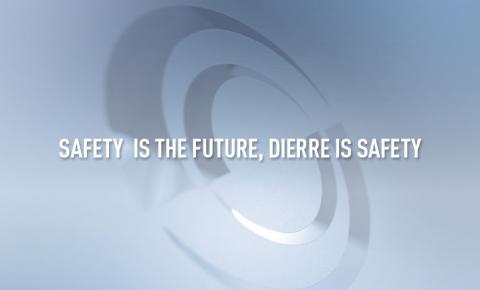 Safety is the future, Dierre is Safety: this slogan, which appears at the end of our Group's corporate video, is one of our main objectives. For Dierre, SAFETY is the priority; thanks to our in-depth knowledge of modular protection systems, machine safety guards and mesh perimeter guards, certified by ECM (Machinery Certification Body). The use of quality materials and the strict monitoring of all stages of production and assembly are aspects that our Group follows conscientiously to make the end result reliable, safe and exemplary. The results and the recognition received during recent years are the reward for the Group's investments and tenacity, which today, more than ever, can be considered the principal partner of its Customers as well as being synonymous with security in markets throughout the world. The proven quality of our products is confirmed by the important orders that have been placed with our Group by leading Italian companies.
GIMA: AUTOMATIC PACKAGING MACHINES FOR PHARMACEUTICAL, COSMETICS, TEA, COFFEE AND FOODSTUFF
For GIMA, a company of the IMA Group, which is a major international business and world leader in the design and production of automatic packaging machines for pharmaceuticals, cosmetics, tea, coffee and foodstuffs, we produced a specially designed Fast Line series H=2500 guard made entirely of panel bond panels. The guard includes 6 doors, one of which is sliding and 2500 mm wide, to allow the entry of very large items and units. There are 3 safety doors fitted with panic bars with springs that close automatically and which only open from the inside. Entry to the area is only allowed by entering a combination.
UNIFILL: PRODUCTION OF VERTICAL MACHINES FOR THERMOFORMED SINGLE-DOSE CONTAINERS
For UNIFILL, a world leader in the production of vertical machines for thermoformed single-dose containers, Dierre has designed and built a Fast Line series guard that will delimit the area of a thermoforming machine and filling machine for various single-dose products, such as pharmaceuticals, cosmetics, body care products, chemicals and food.
CAVALLERI: PROCESSING MACHINES FOR PAPER, ALUMINIUM FILM, PVC AND POLYURETHANE
For CAVALLERI, a historical company in the province of Genoa, with over 70 years of experience in the paper and paper converting industry, and leader in the manufacture of highly automated processing machines for various products such as paper, aluminium film, PVC and polyurethane, we have produced a machine guard made with an aluminium frame and polycarbonate panels for reel cutting machines. This project confirms and strengthens the position of Dierre as a reliable partner for the Customer.
PELLICONI: CROWN CAPS AND CAPS MADE OF ALUMINIUM AND STEEL
For Gruppo PELLICONI, a world leader for crown caps and caps made of aluminium and steel, Dierre has produced a fifth machine guard, in addition to the four already supplied, made of structural aluminium profiles that will be installed in the crown cap packaging line. The collaboration between Dierre and Pelliconi is strengthened by an in-depth knowledge of the market.
TINARELLI: AUTOMATING PACKAGING LINES FOR COSMETICS AND HOSIERY
For TINARELLI, a leading company in the design and manufacture of machinery for automating packaging lines for packaging cosmetics and hosiery, Dierre has designed a "full view" machine guard system made of very thick polycarbonate but without the traditional aluminium frame. This new project consolidates a twenty-year collaboration between the two companies.